Your #1 Santa Cruz Eye Doctors
"Our office is dedicated to providing the highest quality optometric care at affordable fees."
Are You "Looking" For A Santa Cruz Optometrist?
Getting the right prescription for your eyeglasses and contact lenses in Santa Cruz is an important part of good eye care. But seeing clearly is just one part of your overall eye health. We at InSight Eyecare Optometry encourage you to have regular eye exams whether or not you wear eyeglasses or contacts, and even if your vision is sharp.
The Santa Cruz eye doctors at InSight Eyecare Optometry believe in looking at the big picture when it comes to your eye health, so we take the time to get to know you, your eye care history and your vision needs. Dr. Rahul Singh, O.D., Dr. Benjamin Kohn, O.D. and Dr. Joseph Zhu O.D. know that getting the right prescription involves balancing several factors, including clear eyesight, visual efficiency and your ability to process visual information seamlessly.
Designer Frames We Carry
























A little screw fell out of my glasses and needed to be replaced. I visited Insight to see if they could help. The staff was wonderful. They replaced the screw on the spot and even replaced a nose pad that I hadn't noticed was even missing. The lenses were cleaned and the glasses were returned to me as good as new. The folks never even asked if I had purchased the glasses there (which I hadn't) and they would accept no payment for the service. I wish more businesses were as caring as Insight!
This has to be one of the best optometrist offices I have ever been to! The office was very neat and clean and they have really cool medical equipment. The staff was friendly and open about whatever questions I had about my vision and selection of glasses. Dr. Singh was very warm and knowledgeable about my problems with my vision, and really took the time to explain everything to me. Loved the warm and inviting atmosphere . . . I would definitely recommend this place.
Very kind, attentive staff who are detail-oriented and aim to please. Highly recommended and I will return in the future.
I decided to give these guys a try and I have to say they are my new favorite eye doc place. Everyone was very friendly and on time, the Kathy was a pleasure to see and my check up was very thorough overall. They also went the extra mile to deal with my crazy contact lens prescription in the brand I requested, it was delivered right on time too. Very good experience overall, this is the the spot in the SL Valley for eye care!
I started taking my family to Insight Eyecare starting this year and I was surprised to see how well equipped this office was with the latest eye test equipment. Dr. Singh is very professional and skilled at what he does and the staff is very friendly. They have a wide array of high quality spectacle brands to choose from. My whole family stocked up with new glasses and are seeing much better now! A cut above the rest. Highly recommended.
So thankful for the courteous service at Insight. I'm always satisfied with Becky's cheerful professional help when it comes to precisely adjusting my glasses. She listens and cares that I have the best vision possible.
Our Eye Care Services
If you are in Santa Cruz and need a routine eye examination, an eyeglasses fitting or treatment for eye disease (such as glaucoma or macular degeneration), please contact us. If eye surgery (such as LASIK, PRK or cataract surgery), or specialty contact lenses (such as CRT or keratoconus lenses) are in your future, our optometrists will provide you with the best care, advice, options and follow up.
Looking for a Santa Cruz Eye Doctor?
With offices in Capitola, and Scotts Valley, InSight Eyecare Optometry has been serving the Santa Cruz region as well as Aptos, Soquel, Watsonville, Felton, Boulder Creek, Ben Lomond for many years now. Schedule an appointment with an optometrist to see how we can help you get the best prescription for your eyes.
Jun 18, 2018
Migraine Awareness Month: An ocular migraine is any migraine headache that involves a visual disturbance such as flashes of light, seeing stars or zigzags or the appearance of blind spots in the visual field. Ocular migraines can interfere with your ability to go about your daily tasks such as driving,...
The OWP Line of Frames

A German eyewear company of superior craftsmanship since 1947, OWP (Optische Werke Passau) is where design quality meets perfect wear comfort. The OWP line boasts exceptional technical features, light weight, and fascinating shades.
Our Optical offers some of the finest and most desirable lines, at great prices. See what our opticians recommend at Our Optician's Pick page.
Schedule an appointment for a comprehensive eye exam today.
Come in today to check out all of the great optical choices we offer!
Why do I Need Regular Eye Exam?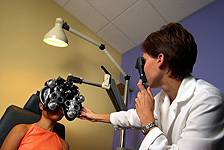 While most people schedule regular check-ups with doctors and dentists, many are not aware of the importance of an annual visit to the eye doctor. Regular eye exams can be the key to the early detection and treatment of emerging vision problems, eye diseases, and a number of other health issues. When you come to The Santa Cruz eye doctors at InSight Eyecare Optometry for an eye exam, you will receive comprehensive service designed to find and correct any vision or eye issue. Don't take good vision for granted, schedule an appointment today!